Autonomous underwater radioactivity analyser
The operation principle of Autonomous underwater radioactivity analyser is the following: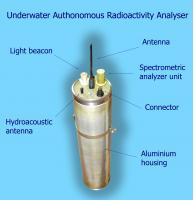 The Radioactivity Analiser is being deployed at the area where the UPDO is supposed to be located. The system includes radiation spectrometer, radio beacon, electronic microprocessor-based control system, electromechanical anchor release, hydroacoustic antenna, power supply, flashing beacon.
The radiation rate is being measured with specified frequency according to a determined schedule. The SRM recovers to the surface and transmits encoded radio signal if the radiation rate exceeds a determined level set before deployment. The signal is being received by a satellite system and transmitted to the Center of radiation monitoring for recording and analyzing.
The system selectively measures gamma-rays in the specified energy bands. Since gamma-rays consist of gamma-ray quantum with one or several energies and form discrete spectrum the system can uniquely determine radioactive nuclide.
The spectrometric (radiation) analysis unit is based on the scintillation gamma-ray detector with CsJ(Tl) crystal which is optically coupled with photodiode. The unit includes amplifier of the detector signals, multichannel analyzer of pulse amplitude and data storage and processing device.